Introducing Our Loyalty Reward Program – PlayOn Cherry!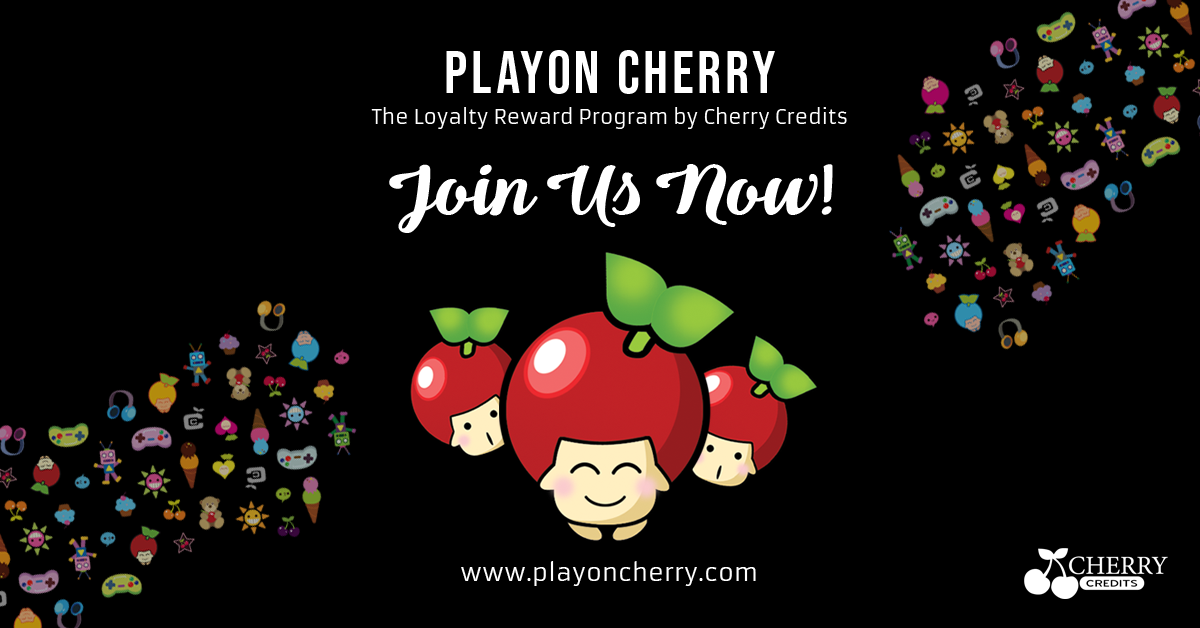 DearCherry users,
This December, we are delighted to bring you our new loyalty reward program - PlayOn Cherry!
There are fun and rewarding activities within this loyalty reward program, we hope to bring you fun while collecting your reward points by unlocking and collecting Cherry eCards designs, performing quests and participating in various events. Level up your PlayOn account to enjoy greater rewards and higher chances of winning prizes such as discount coupons, in-game items, exclusive collectibles and many more.
In the upcoming months of December to February, check out the launch of Dragon Nest eCard design collectible series! Also, look out for our Launch Bonanza on 16 December and special "DNSEA x Cherry Harvest" draw that will win you fabulous Dragon Nest items on 31 December!
Most importantly, not to miss our 2 weeks launch special! 5% rebate for purchases made at PlayOn Cherry from 1 Dec 2020 to 15 Dec 2020 (2359HRS GMT +8)!
See you at PlayOn Cherry - https://www.playoncherry.com!
RELATED PRESS RELEASE
Payment service provider Cherry Credits announces new loyalty reward program
With 'PlayOn Cherry,' users can accumulate 'Cherries' reward points to redeem discount vouchers and participate in various events
Singapore — Dec. 1, 2020 — Southeast Asia's preferred payment partner, Cherry Credits Pte Ltd, announced today the launch of a new loyalty reward program targeting players of more than 1,000 online games, including the popular Dragon Nest SEA.
With "PlayOn Cherry," registered users who purchase a Cherry Credits ePIN via the PlayOn Cherry website can earn and accumulate reward points that can be exchanged for discount vouchers to use on their purchases within the site.
Gamification of the loyalty reward program infuses fun and rewarding activities by having users to unlock and collect Cherry eCards designs, performing quests, and participate in events. With the new program, users can also level up their PlayOn account by participating in activities that allow them to reap greater rewards and increase their chances of winning prizes such as discount coupons, in-game items, exclusive collectibles, and more.
With the loyalty rewards program, users buy game credits with Cherry Credits – CC and get more value in return. Users can also enjoy play outside of the game and get rewarded at the same time.
Merchants can leverage PlayOn Cherry as a promotional vehicle for their games through the platform's featured game write-ups, dedicated card designs, and event prize sponsorship opportunities.
"We are delighted to give back to our users through our new loyalty reward program as a way to thank them for their support over the years," said Sureen Lim, COO of Cherry Credits. "With PlayOn Cherry Credits, we hope to offer our valued users the prospect of earning tangible rewards in fun new ways while providing gaming businesses with opportunities to expand their reach within Southeast Asia's gaming community."
Merchants interested in partnering with Cherry Credits to integrate the PlayOn Cherry Loyalty Reward Program can contact the company at business@cherrycredits.com or learn more at https://business.cherrycredits.com.
Visit PlayOn Cherry at https://www.playoncherry.com.
About Cherry Credits Pte Ltd
Since 2007, Cherry Credits has been a trusted provider of secure global payments for digital content. Through the platform's unique e-wallet system and physical scratch card distribution, Cherry Credits empowers gamers to purchase game credits online anytime, anywhere. Processing millions of online transactions annually, Cherry Credits is the payment solution of choice by game developers and publishers everywhere who have made the system an essential part of their global expansion plan.
Visit Cherry Credits Official Site at https://www.cherrycredits.com.
Follow Cherry Credits on Facebook at @cherrycredits.